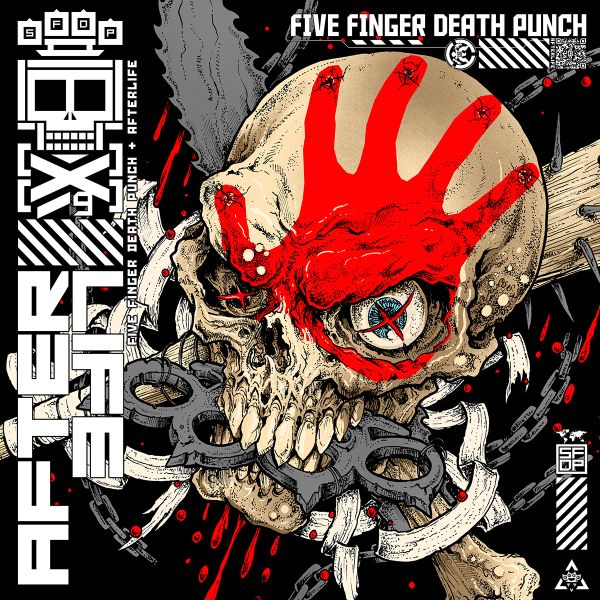 FIVE FINGER DEATH PUNCH kündigen neues Album AfterLive für den 19. August an!
Der neue Song IOU ist ebenfalls ab heute erhältlich inkl. Lyric Video
Nach der Veröffentlichung ihrer aktuellen Single AfterLife kündigen FIVE FINGER DEATH PUNCH heute ihr gleichnamiges neues Album für den 19. August 2022 an. AfterLife kann ab sofort überall vorbestellt werden. Außerdem veröffentlicht die Band mit IOU heute einen weiteren Track vom kommenden Album inkl. Lyric-Video, welches einen kleinen Einblick in das Metaverse-Projekt bietet, an dem die Band gearbeitet hat. Die interaktive virtuelle Welt wurde mit der nahezu fotorealistischen Unreal Engine entwickelt und wird in naher Zukunft eine Erweiterung der bestehenden Fanclub-App darstellen.
AfterLife ist der mit Spannung erwartete Nachfolger ihres 2020 erschienenen Albums F8 das weltweit auf Platz 1 der Rockcharts landete und in die Top 10 der Mainstream-Charts in den USA, Österreich, Australien, Kanada, Finnland, Deutschland, Schweden, der Schweiz, Großbritannien und weiteren Ländern einstieg (#2 in den offiziellen deutschen Charts, #2 in Österreich und #2 in der Schweiz).
Die Band kündigte kürzlich zudem ihre kommende US-Headline Tour an, die von Live Nation durchgeführt werden wird. Die Tour startet am 19. August und wird über 30 Shows umfassen. Mit dabei sind die Rock-Ikonen von MEGADETH. Außerdem werden die Label Kollegen von THE HU und FIRE FROM THE GODS das Line Up vervollständigen und versprechen eine facettenreiche Nacht voll intensiver Heavy Rock Musik. In Europa werden FIVE FINGER DEATH PUNCH bereits im Sommer live zu sehen sein, inkl. Auftritten im deutschsprachigen Raum auf dem Nova Rock Festival, dem Download Festival und dem Frauenfeld Open Air. Hinzu kommen zwei weitere Headline Shows in Berlin und Mönchengladbach.
AFTERLIFE Tracklisting:
1. Welcome To The Circus
2. AfterLife
3. Times Like These
4. Roll Dem Bones
5. Pick Up Behind You
6. Judgment Day
7. IOU
8. Thanks For Asking
9. Blood And Tar
10. All I Know
11. Gold Gutter
12. The End
FIVE FINGER DEATH PUNCH Europa Tour Dates:
Jun 12 Nickelsdorf, Austria, Nova Rock Festival
Jun 14 Mönchengladbach, Germany, Sparkassen Park
Jun 15 Berlin, Germany, Wuhlheide
Jun 16 Dessel, Belgium, Graspop Metal Meeting
Jun 17 Clisson, France, Hellfest
Jun 18 Dessel, Belgium, Graspop Metal Meeting
Jun 20 Rotterdam, Netherlands, Rotterdam Ahoy
Jun 22 Prague, Czech Republic, Letišt? Let?any / Let?any Airport
Jun 24 Hockenheim, Germany, Download Festival
Jun 25 Oslo, Norway, Tons Of Rock
Jun 27 Sandviken, Sweden, Göransson Arena
Jun 28 Copenhagen, Denmark, Royal Arena
Jun 29 Frauenfeld, Switzerland, Grosse Allmend
Jul 02 Belgrade, Serbia, Tašmajdan
Jul 03 Sofia, Bulgaria, Hills Of Rock Festival
Jul 05 Budapest, Hungary, Papp László Budapest Sportaréna
Jul 06 Krakow, Poland, Impact Festival
Jul 07 Oulu, Finland, Rock In The City Oulu
Jul 08 Tampere, Finland, HAKAMETSÄ PARKING AREA
Jul 11 Tallinn, Estonia, Saku Suurhall
Jul 12 St. Petersburg, Russian Federation, A2
Website:
fivefingerdeathpunch.com
Facebook:
facebook.com/fivefingerdeathpunch
Quelle: Head Of PR
Wie Du uns unterstützen kannst:
Dir gefällt unsere Arbeit? Das ist toll! Allerdings kostet sie Zeit und Geld, daher würden wir uns wir uns über die Zahlung einer freiwilligen Lesegebühr freuen! Auch mit dem Einkauf in einem unserer Shops kannst Du uns unterstützen:
eBay | Cardmarket | Booklooker | eBay Kleinanzeigen
Zudem würden wir uns freuen, wenn Du einen eventuell vorhandenen "Adblocker" deaktiviest und/oder unsere Inhalte Website und Inhalte in die Welt teilst. Vielen Dank!
Weitere Beiträge zu FIVE FINGER DEATH PUNCH: