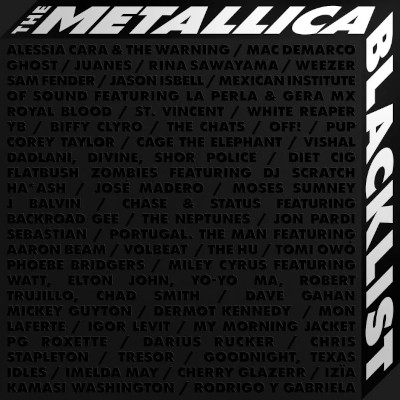 Im August wird das legendäre fünfte Album von Metallica 30 Jahre alt. Die selbstbetitelte Scheibe wird von vielen nur als "The Black Album" bezeichnet und stellt mit Songs wie The Unforgiven, Enter Sansman und Nothing Else Matters einen wichtigen Meilenstein in der Geschichte der Metal-Ikonen dar.
Das Jubiläum wird nun mit zwei Releases gefeiert: Zum einen erscheint am 10. September eine Remastered-Edition der Kult-LP - digital und physisch, inklusive einer Vinyl-Variante. Zeitgleich wird The Metallica Blacklist veröffentlicht. Hierauf covern über 50 Künstler die Songs vom "Black Album" und interpretieren diese komplett neu. Einen Eindruck dessen, was den geneigten hier Käufer erwartet, seht Ihr in diesem Trailer:
The Metallica Blacklist erscheint auf 4 CDs bzw 7 LPs und alle Gewinne daraus gehen laut Trailer an einen guten Zweck.
Website:
www.metallica.com
Quelle: Universal Music
Weitere Beiträge zu METALLICA: