From Down Under comes a new Dark Symphonic Metal formation called Victoria K - named after their charismatic and powerful singer. The band just released their debut album Essentia, an impressing piece of work. I recently did an interview with Victoria herself about that album and her band as a whole for LEGACY magazine. The (German language) story can be read in upcoming issue #127, but as in most cases the interview was much longer than the quotes I could use in that print magazine. Here is all the rest of Victoria´s answers - read them to learn more about a possible new star at the metal horizon!
Otti:
Just to have a short introduction: What have been the influences and people that pushed you to start your own music?
Victoria:
I started writing many years ago and I found it to be a good creative outlet for me. I read a lot of Shakespeare, Edgar Allan Poe and H.P. Lovecraft. Their writing styles and themes have probably influenced my writing more than anyone else. I love the dark and macabre way they write, the themes they address, and I love old English literature.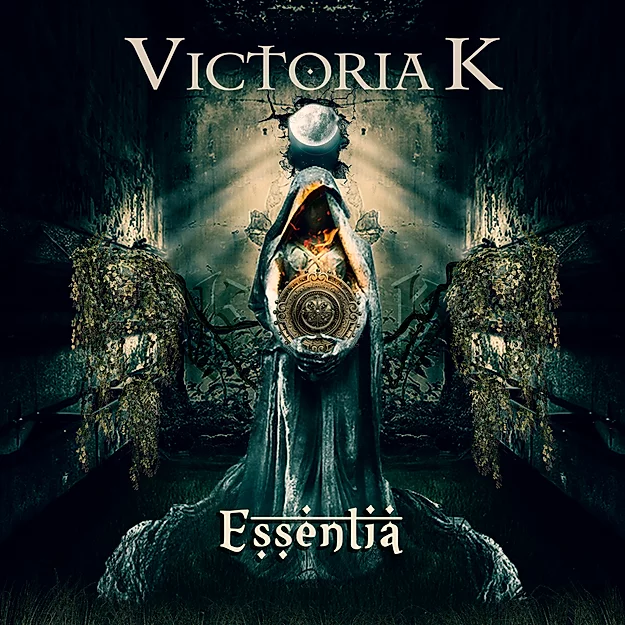 "I think we have a great mix of talents and personalities."
Otti:
Having your debut Essentia finished, what do you feel about the record now?
Victoria:
I'm very proud of the album that we produced and I´m very proud of everyone involved. They´ve all done such a great job and I´m very grateful to all those amazing people that were a part of creating Essentia. It takes a lot of people, a lot of hours and a lot of hard work to bring this all together, so a huge thank you to all of them. It really is an amazing feeling as an artist to see your vision and work come to life.
Otti:
To you personnally, what is the most important song on the album? For what reason?
Victoria:
My favourite has to be Forsaken. This song is very personal to me and close to my heart. It was written about a personal experience and the feelings I felt at that time, so the song really connects with me.
Otti:
While working on the record and recording it, what have been the most exciting experiences you made?
Victoria:
I would have to say watching the whole thing come together. Every part of the album is added one piece at a time and hearing each song grow layer by layer was really cool. I loved working with Michalina Malisz () on Shroud Of Solitude and the other thing that really stands out for me was listening to the Budapest Orchestra record the tracks.
Otti:
Sheri Vengeance is introduced as a band member, but in the tracklist I have as a "featured Artist". What part does she fulfill exactly within Victoria K?
Victoria:
That´s an interesting question. She recorded the album as a "Featured Artist". We loved her work and the depth her voice gave to the songs she featured on. Most importantly we loved her, so after the album was recorded and we had some shows under out belt we invited her to formally become a member of Victoria K. You can expect in future albums to hear a lot more of Sheri through the songs as a permanent member of Victoria K. We listed her as a featured artist for Essentia to honour the role she played on that album. You may even get to hear Sheri sing on more songs from Essentia during our live shows too!!
Otti:
Having a ratio of 3/5 female members (including Sheri) would be a good one in most governments in my eyes. What advantages has your band´s constellation?
Victoria:
I think we have a great mix of talents and personalities. They all bring something different to the band and we all get along so well, which is really very important. Everyone brings with them a wealth of knowledge and experience. I´m not sure if being female or male really matters or whether the ratio of female/male matters within the band. I have seen a lot of female artists and bands being recognised for their music more recently which is great for music in general. In the end though the music needs to stand on its own and the music is what really matters.
Otti:
And what does the gender of a human being mean to you in general?
Victoria:
I don´t think too much of gender. I believe, the most important thing is that everyone can be what and who they want to be and that they can be true to themselves.
Otti:
2020 has brought lots of dreads, like Corona, but also the horrible bushfires you had to suffer in Australia. Regarding the fires, what are the thoughts and impressions that are still in your mind?
Victoria:
The world has been very crazy in 2020. The bushfires were devastating to Australia and a lot of Australian communities. Luckily, we were not close to the fires, but we all watched as other Australians suffered and battled to keep their homes and communities from burning down. Many people lost their lives, so did millions of animals and our natural landscape was totally destroyed. The total area of bushland that was burned is equal to four times the size of Belgium! I think the devastation of the fires will be felt for many decades to come. It was really one of the saddest times in Australia´s recent history. My heart goes out too all those that are still fighting to recover from the fires.
Otti:
And to finish with positive thoughts: What are your hopes for you, your band and the world we live in?
Victoria:
For the band, we have plans to create more music and get out and perform live shows, once we can. We would love to tour Europe as soon as possible and get to connect with our fans and supporters over there.
As for me personally, I would really love to make the move to live in Europe. I think somewhere in Scandinavia would be my choice. They have an awesome metal scene and I love the culture. It is all just so beautiful.
Website:
www.victoriakmusicofficial.com
Kommentare:
Registrierte User können hier Kommentare zu diesem Beitrag abgeben, um anderen Ihre Meinung mitzuteilen.